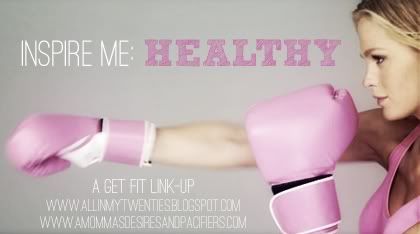 Found this little thing over at
everyday Stephanie
and figured I may as well participate. I'm still 6 to 7 lbs from my pre-pregnancy weight and would like to fit into my pants by the time it cools down around these parts.
So here's the deal. I weigh, on average, 125 to 128. I WANT to weigh around 116. My goal is to get to 120.
I've spent an entire summer staying inside holding a brand new little baby, and I wouldn't change that for anything in the world, but only so much weight will come off that way. So as I headed back to work, I rejoined the fitness club I once loved. I couldn't stay because, well, it just wasn't conducive to the whole baby growing inside me thing.
I've lost a couple pounds since going back, but I've been bad, bad, bad this week. Here it is Thursday, and I've only gone one time! I'll go tomorrow, but this is a BAD habit.
Eating? Well, I've been relatively good, but I need to get better.